Choosing a good professional emailing software for marketing automation is never easy. Some solutions are very complex to take by email and require time to adapt to master them. As for others, they do not meet the needs of users and are therefore unusable.
What we are mainly looking for in emailing software that manages marketing automation is often the ability to create relevant scenarios in a simple and intuitive way.
We will see below how it can be managed with the ActiveTrail solution , professional software that emphasizes ease of use.
First of all, let's find out what marketing automation is and what it brings to businesses.
What is marketing automation?
Marketing automation allows you to automate certain online tasks related to digital marketing. It is a solution more and more used by companies and in particular in the field of B2B.
It is generally through a software solution that the company will automate certain tasks, through predefined scenarios upstream.
It is the marketing department and particularly digital marketing that will be responsible for managing actions via a marketing automation solution.
Marketing automation will thus allow structures to set up various automated actions for their digital marketing, such as sending e-mails, classifying customer data or even delivering content suited to a type of audience or customers. Companies mainly use marketing automation in order to obtain a better return on their marketing campaigns and thus allow them to effectively develop their customer portfolio.
By automating several marketing actions, the company will save time and allow its solution to obtain better targeting of its customer/prospect base. In this case, marketing automation will deliver better-qualified leads while increasing its profitability.
To understand how marketing automation works, the publisher of the ActiveTrail emailing software has created a short video that shows the implementation of a simple scenario. The principle is based on drag and drop in order to create simple and immediately operational actions.
View more: HOW TO GENERATE LEADS THROUGH CONTENT MARKETING?
Emailing and marketing automation by ActiveTrail
In the short video below, we see how the ActiveTrail solution manages to simplify the creation of emailings and scenarios for its marketing automation software. You have a main window in the center which represents your workspace for creating scenarios and on the right column the possible actions that you can import.
The scenarios in marketing automation work mainly in the form of Boolean operations, that is to say according to the choice of the customer, a scenario can make you take a path A or a path B. In this case a condition is emitted: IF the customer makes this choice, THEN we give him such information. The email is open: YES, then we send it a content, the email has not been opened: NO, then a specific offer (or other) is addressed to it.
The drag and drop method allows beginners to quickly learn the software and understand how it works intuitively. You drag the actions located to the right of your workspace, towards it.
ActiveTrail manages to explain the strength of its emailing / marketing automation solution in just 30 seconds in this video:
Create a Marketing Automation scenario with ActiveTrail
On creating more complex marketing automation scenarios, ActiveTrail guides you through their creation from a blank template. As a reminder, scenarios allow you to create diagrams according to the choices made by Internet users
In this video, you will discover the full power of marketing automation scenarios, from sending an email to actions to be triggered.
It is mainly the ease and level of scenario creation, which determine the strength of existing marketing automation solutions.
The more you can handle them with ease, the more the tool will become essential and really relevant during your emailing campaigns. The intuitive side and the power of the tool will strengthen its choice for the professional user in charge of digital marketing.
Now let's see how to create a marketing automation scenario with ActiveTrail:
Predictive sending with ActiveTrail
Here is the question on which many marketers or people in charge of emailings, at least once broke their heads to ensure the sending of their newsletter:
When is the best time to send your newsletter?
There are different theories on the subject and they all have their reason for being able to reach your target at the right time … but in the end when is really the best time?
ActiveTrail's ultimate answer to this problem: Predictive sending
Predictive Send is a new feature in development recently implemented by the ActiveTrail technical team. It will allow you to send your marketing campaign precisely when your recipients would like to receive it.
With a forecast clock system, ActiveTrail collects information on the optimal dates to deliver your emailing or newsletter to each of your recipients. The goal is to achieve a better open rate for your campaigns , which will result in an optimum conversion rate and an increase in your sales.
How is the optimal date calculated for sending e-mail?
ActiveTrail uses predictive analytics and historical data analysis to determine the past behavior of your customers.
Example:
ActiveTrail's predictive sending notes that during the last emails sent to Jessica, the latter usually opens them between 10 a.m. and 11 a.m. and that Benjamin usually opens his emails between 12 p.m. and 1 p.m.
In this case, Jessica will receive your emails at 10:30 a.m. while Benjamin will receive them at 12:30 p.m. As a result of this analysis, there will be statistically more chance that they will open your emails, which will have the effect of increasing the results of your campaign.
View more: THE FUTURE OF EMAIL MARKETING: PREDICTIVE ANALYTICS
The emailing campaign will be sent within 24 hours from the moment you set it up, either according to the date of sending planned upstream. It will be necessary to activate predictive sending for this.
To start the predictive send clock, move the slider to the right and wait for it to finish its calculation to define the best times for your sendings: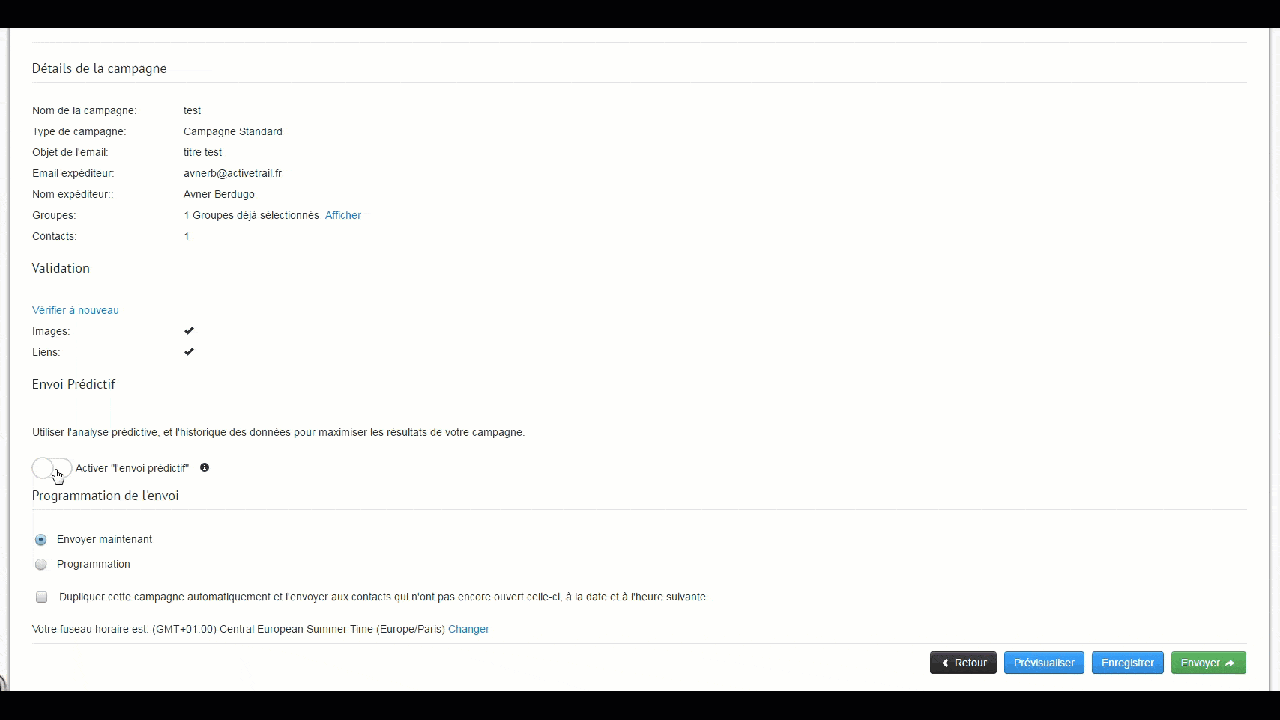 E-commerce campaigns with ActiveTrail
As you probably know, one of the main scourges in e-commerce is cart abandonment. The customer makes his choice of products, he adds his selection to the basket and decides at one time or another not to continue and not to complete his act of purchase.
Several reasons can be linked to the abandonment of an e-commerce cart:
Customer journey too long, sudden reflection, consultation of review sites, credit card problem or indecision when it comes time to materialize. To overcome this, e-merchants have recourse to many methods of reminder, ranging from sms to e-mail via telephone call.
Some actions can then be automated such as sending email and sending sms to try to catch up with the customer. Different techniques are used, in particular that of the promo coupon if the basket reached a certain amount.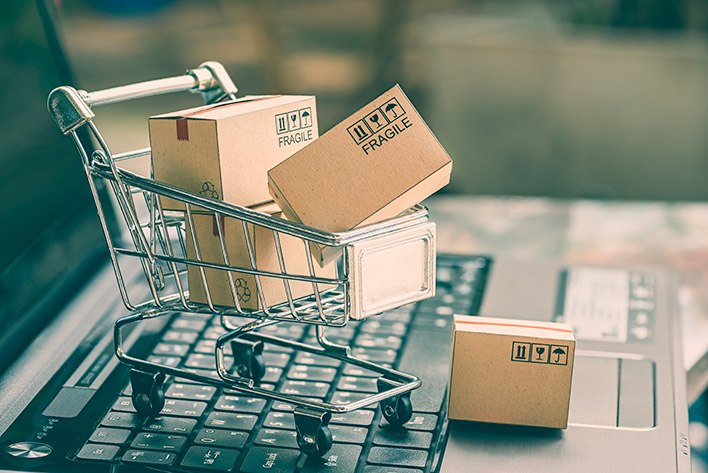 ActiveTrail E-commerce: ActiveCommerce
ActiveTrail offers its ActiveCommerce e-commerce solution, an email marketing platform for e-commerce that integrates perfectly with the main CMS (Content Management System) such as Magento, Shopify and Prestashop.
ActiveCommerce offers e-merchants to manage 3 main axes through its solution:
Shopping cart recovery (recovering buyers who have abandoned their shopping cart)
Post-purchase follow-up (Suggest products based on previous purchases)
Buyer reactivation (Send special offers to your buyers)
These different axes aim to increase conversion rates by recovering abandoned baskets, ensuring post-purchase follow-up and reactivation of buyers by offering them special offers, coupons for products of the same after-sales family, etc.
Let's see how e-commerce campaigns are managed by ActiveTrail:
The Future of Automation Marketing: Artificial Intelligence
The first elements of artificial intelligence linked to marketing automation, will undoubtedly be linked to the processing of the large amount of data entered within the solutions. The holy grail is being able to process them in real time to deliver solutions instantly.
The storage of the different scenarios, the solutions provided, conversions following cart abandonment and the bulk of after-sales follow-up and customer reactivation help to improve marketing automation tools.
The more data there is, the more the solution will be able to provide a good compromise, an adapted solution and all this in the right timing while interacting very from a human point of view.
Tomorrow, marketing automation will be able to dialogue and bring real solutions to the customer
To conclude on ActiveTrail
ActiveTrail offers professionals a solution that is easy to learn where many players are still using complex tools that often contain many unnecessary features or do not show a real need.
With ActiveTrail, you won't have to leave your solution at the bottom of a drawer, because in terms of ease of use and ergonomics the tool stands out as an innovative and intuitive solution in the field of email marketing.
With an e-commerce module for e-merchants, ActiveCommerce connects to the main e-commerce CMS in order to back manage shopping cart recovery, post-purchase monitoring and the reactivation of buyers.
ActiveTrail is a complete marketing automation tool that will delight the majority of users with its ease of use.